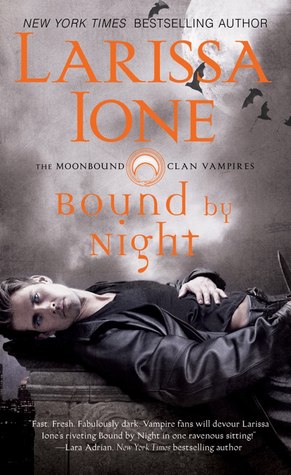 A new series by Demonica author, Larissa Ione, is a great read that is more than just your usual flat romance/erotica novel.  I am a huge fan of her Demonica series, so when I seen she had a new novel out I couldn't wait to get my hands on it!   I received this ARC in exchange for a honest review.  Well, I can say I wasn't disappointed in the least and I can't wait to get the next novel in this series.
This is the first novel in the MoonBound Clan Vampires Series.  Yes I said vampires.  Now, don't groan.  I know some of you are thinking oh yeah, just what I was waiting for yet another vampire novel.  Now I will agree, this particular genre has been a bit overdone especially since the Twilight/True Blood phenom.  But Ione has added an original twist to her vampire lore.  Ione has intertwined vampire lore and the Native American heritage in a way that is unique and very engaging.
In Bound by Night, there are no sparkly vampires or vampire night clubs.  Instead vampires are hunted and enslaved; seen as nothing more than animals fit only to serve humans.  Vampires are the new slave trade, and Nicole Martin's family has made a fortune selling and exploiting vampires.  That is until a slave rebellion changed Nicole's life forever.
Riker is a turned vampire.  Ex-military and commanding member of the MoonBound Clan, he hates humans.  His mate was taken and turned into a slave by the Martin family and he blames them for her death.  So when the opportunity arises to kidnap one of the last surviving Martins, who happens to be head of a vampire research company, he jumps at the chance.
The novel's characters are strong and engaging.  Each one has allowed their own prejudices to be the driving force behind their own lives.  But events force them to face their own preconceived notions throughout the course of the story.  One thing I enjoyed about this novel is that is Ione used paranormal romance to highlight greater societal issues.  The characters in this book are reluctant to believe the other isn't a horrible monster.  They are happy living in their own bubble of hatred and it isn't until they are forced to burst that bubble, to ensure their own survival, that they truly begin to challenge their own views.
The writing was well done.  The story moved at a pleasant pace, I never felt things were bogged down or moved too quickly.  The lemony scenes are tastefully done.  There is no slurping or squishy noises, honestly why do writers put those things in books?  This isn't a smut for the sake of smut kind of book, which have their place don't get me wrong.  The sex between the characters is important and serves as a turning point.
I will go ahead and tell you, there is no cliffhanger but events are set in motion for the next book.  The next book is due out soon so you won't have long to wait for the next installment.  So happy reading!!