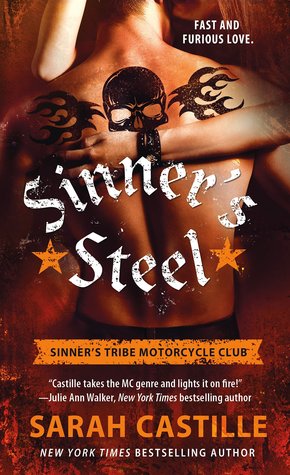 I received this ARC in exchange for a honest review and I am not disappointed. I love the newest installment in the Sinners Tribe series. O.K. so I may be a little biased here because there isn't a book by Sarah Castille that I haven't liked. Whatever she puts on paper I instantly adore. This book is no exception.
Zane is VP in the Sinner's Tribe MC. He's good at his job and has no regrets, except one….Evie. She is the proverbial "one that got away". Having grown up with Evie, Zane has loved her for most of his life. She has always been in the back of his mind, never forgotten. Circumstances beyond his control forced Zane to leave Evie many years ago. But fate brings them together once more.
Evie has built a life for herself and her son. She has a successful business and his dating a local biker. That is until Zane walks back in her life. While they both care for each other, is there too much water under the bridge to begin again?
I really enjoyed this book. While this is the third book in the series, it can be read as a standalone. I haven't read any of the previous books and I was able to follow and keep up with things happening. I highly recommend this book