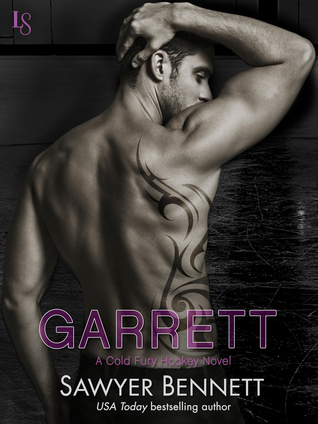 I received this ARC in exchange for a honest review.  Sawyer Bennett brings back the Cold Fury boys in this second installment. While the book is a bit formulaic, it is an enjoyable read. You don't need to have read the first book in the series to enjoy this book. Bennett does a great job of filling in the blanks a first time reader may face, without becoming repetitive.
Garrett is a player that leaves a string of women in his wake. Hockey is the number one priority in his life and he makes no apologies for that fact. That is until Olivia enters his life. With a little bit of lust at first sight, Olivia quickly becomes a major part of Garrett's life.
Olivia is somewhat of a free spirit. She is very self-assured and strong. She is instantly taken with Garrett but she has a secret and isn't sure Garrett is something she should take on at this point in her life.
I enjoyed how we see Garrett lose his man-whore ways and become a committed partner. His character becomes more dimensional and evolves throughout the book. I wish I could say the same for Olivia. She began kind of flat and that's how she ended. Don't get me wrong, she was a great character. She was independent and went after what she wanted. But maybe that's the way she needed to be in order to illuminate Garrett's complete turn around.
Overall, I enjoyed the story. It flowed nicely and you get both characters' POV. While the book is the second in a series, it is a stand-alone story that wraps up nicely in the end. If you enjoyed her first book then I recommend you check out Garrett. I don't think you'll be disappointed.